Pets as Presents: Why It's Not a Good Idea Any Time of Year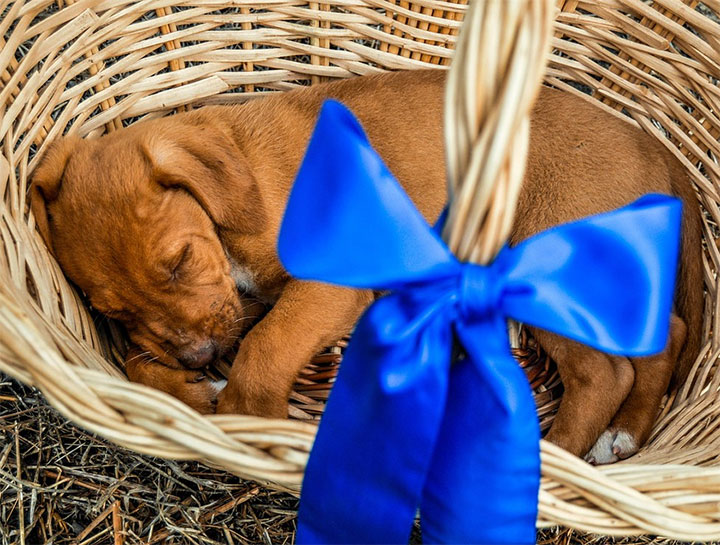 October 8, 2020
You may be thinking of purchasing or adopting an animal for that special someone in your life. Wait! Visions of your favorite family member opening a squirming, wriggling package and crying tears of joy are running rampant in your mind, but is that really what is going to happen? Not necessarily. Here's why we feel strongly that pets are not presents for any other time of year.
1. Pets are Personal
Sure, your significant other can't stop watching cute cat videos on YouTube. Your mother has a particular affinity to other people's mastiffs. But does that mean that a cat or a 200-pound dog will be welcome additions to the family?
Pets are very personal things, and no one knows that better than our hospital staff. While we all absolutely adore each other's "kids," it doesn't mean that we want those same pets in our own household. A new pet is something that someone should be able to pick out for themselves, not something that is chosen for them.
2. Pets are a Lifetime Commitment
When you give someone a pet as a present, you are also giving them 10 or so years of bills. Pet food, toys, beds, accessories, and vet care can quickly add up. According to Investopedia, the average yearly cost of keeping a pet dog is close to $1,600. The average cost of owning a cat? About $1,000 each year. Is your loved one financially able to make this type of commitment? This is something that you need to consider when thinking of giving a pet as a gift.
3. Pets Can Be Overwhelmed
Let's say that you are 100% positive, no doubt in your mind, certain that your loved one wants a pet for the holidays. Maybe they have found the perfect pet at the rescue or maybe a responsible breeder has a litter that is ready to go. The holidays are typically not a good time to bring a pet into your house, no matter how sure you are that a dog or cat would make a fantastic pet.
A pet should be brought into your home when the atmosphere is calm. Your schedule should be somewhat typical, and your pet should have time to adjust to its new human family members. For example, think of how hectic the holiday season is for you and your family, and think how overwhelming that could be for a new pet. Wait until after the holidays or a busy agenda are over to bring your new pet home!
We know that you have the best of intentions when presenting a pet as a gift! We only ask that you consider the above before you choose a pet for someone else. If you have any questions, please send us a message on our Facebook page or send an email to Doudsvethospital@yahoo.com.